Connect volunteer knitters and crocheters with breast cancer survivors to offer free Knitted Knockers to any woman who wants them. There is a huge demand for Knitted Knockers that can't be met by any one group but together we can do it! If someone in each area will set a goal of meeting the need in just their county it can happen!
Knitted Knockers are special handmade breast prostheses for women who have had breast cancer and undergone mastectomy or lumpectomy. Traditional breast prosthetics can be hot, heavy and sticky. They typically require special bras or camisoles with pockets and can't be worn for weeks after surgery. Knitted Knockers are soft, comfortable, beautiful and when placed in a regular bra they take the shape and feel of a real breast. They are adjustable, washable and can even be worn while swimming. Our special volunteer knitters provide these FREE to those requesting them.
Registered Medical Providers
Knitted Knockers Provided*
Volunteers Providing Knockers
Our experience bringing Knitted Knockers to the women of Rwanda. This simple breast prosthetic solution continues to spread around the world. "JUST GO! When opportunity calls... you never know what doors will open."
Watch this video to see Knitted Knockers in the News!
Meet some of the wonderful volunteers changing lives...
Meet Mee, Making a difference throughout the world from New York City!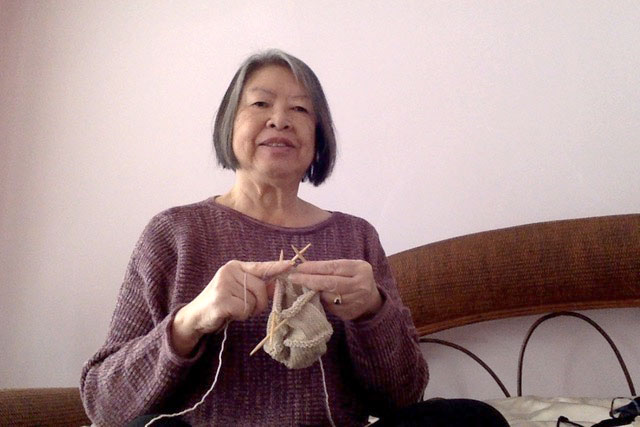 My journey with Knitted Knockers started as a birthday gift to myself in 2017.  As I looked for the yarn at my LYS in NYC, Knitty City, I learned the founder of Knitted Knockers had recently spoken there.  I felt this was Kismet.  In the beginning, I brought all the yarn and tools from Knitty City and gave them the knockers until April, 2018 when they asked to me stop delivering them knockers because they had too many.
Hearing this request totally shocked me and it was then I decided to ship them to the Bellingham office.  At this time I sent an email to learn what cup sizes were needed – Christel nicely responded A and B cups would be appreciated.  These were sent for the next 3 years until November 2021 when the need changed to D, E and F cups.  What a surprise it was to see my knocker count at 1,000 on 2/5/22 – 4-1/2 years since the starting date.